(Best basement.org post title ever? Maybe.)
Amazon released the Kindle a couple of days ago. It's an eBook reader with "revolutionary electronic paper" that let's you purchase, download and read books (up to 200 or so) on this handy little device. It doesn't require a computer and costs $400.00.
Physical objects that carry and represent content as we know them are dying. The book. The CD (or album if you like). The DVD (or Betamax tape if you like). They're all going away. In some ways, that's a good thing. Last Christmas, I strolled into a Best Buy in Brooklyn and snickered at all that floor space dedicated to CD's. I thought it was ridiculous and wasteful. An outdated model that retailers were still hanging onto for dear life.
Still, the grumpy old man in me feels like we're letting something significant slip away.
"Can We Please Get Five Minutes Alone?"
I've actually touched on this point in the past. There is something deeply intimate about the relationship between author and reader that is indelibly bound to that physical object. 150 books on a Kindle doesn't exactly recapture that intimacy. Finding a book; grabbing it; committing to it and then deciding to share that intimacy with the author is part of the book reading experience. Books, unlike newspapers, magazines or blogs, reach depths that make them unique and oftentimes deeply personal for the reader. Grabbing a book off the digital shelf on a Kindle is undoubtedly convenient but that sense of privacy – of being alone with the author – is gone.
Today, it's all getting mixed together in one big, generic carrying device. The result is the genericization (that can't possibly be a word) of digital packaging. When you're listening to Wilco's Yankee Hotel Foxtrot, you're "using" iTunes. When you're reading The Power Broker, you're using a Kindle. The content, crowded into a single, generic bin, is secondary. It's taken a backseat to the intentionally neutral delivery mechanism. The creative work's physical manifestation is gone.
"We Used To Have A Bookshelf Right Over There, But We Replaced It With A Dell Optiplex Server."
We keep too much stuff around as it is these days. All sorts of junk that means nothing (or very little) to us. We produce more than we can consume and as such we're a disposable society. It just turns out we don't really want to dispose of anything. So we collect Tupperware (I think I'm supposed to capitalize that) and that juicer and those old Collector's Edition Star Wars Episode III posters and…the list goes on and on.
Books and other creative works are different. They're capable of representing something more than just a Made-For-TV doo-hickey you impulsively bought. A book can grip you; leave an impression on you; matter to you unlike just about anything. A great album can have that effect as well.
"Happy Birthday Honey. Here's Your $75 Best Buy Gift Card."
One of the best expressions of how much a creative work matters to us is our desire and enthusiasm to share it with others. Did you ever buy someone an album or book that you've already experienced? It's an exciting feeling to share a connection about something with others.
Today, we buy points or credits or gift cards that get you points or credits. There's nothing physical to share anymore. Nothing to unwrap on holidays or birthdays. It's all virtual. How do we replace memories like this?
"Here's Our Latest Product. It Features Glimpses Of Reality!"
What's funny about the march towards the digitization of creative content is that when designers and software developers go the extra mile to recreate physical reality, we're blown away by it. Coverflow is a great example of this. Does anyone actually use coverflow? All this energy was put into recreating flipping through a bunch of CD's. Amazon has invested an enormous amount to make sure we can look inside the books we're thinking of buying.
It's all an attempt to marry the conveniences of technology with the things that really matter to us about the physical world. These efforts (and I'm guessing there will continue to be more of them) are trying to recapture the unique experience of having something in our hands that we care about.
"Where we goin' buddy? The meter's runnin'."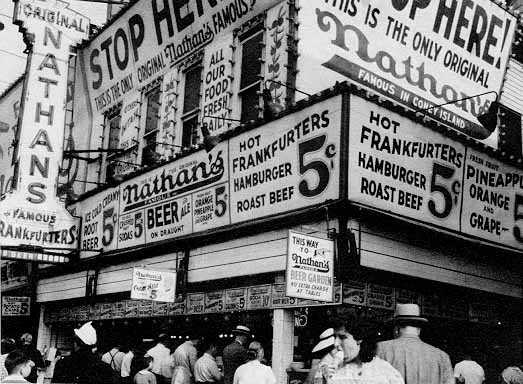 As I look up at this post, I can't help but feel like this old Coney Island cab driver I'd run into once. He rambled on about how $.25 could get you a root beer and a Nathan's hot dog "so huge you couldn't even finish it." He was angry about how things had changed and nostalgic about how things were.
Despite this being a technology blog, I can't help but feel like that old cab driver. Scrolling through your book collection on a Kindle is definitely more convenient than perusing books (with that odd sideways head tilt) on a bookshelf. Still, I can't help but feel something's missing there.
Someone needs to convince the old cab driver in me that it's really not that big of a deal. Be careful though, he's getting grumpier by the day.